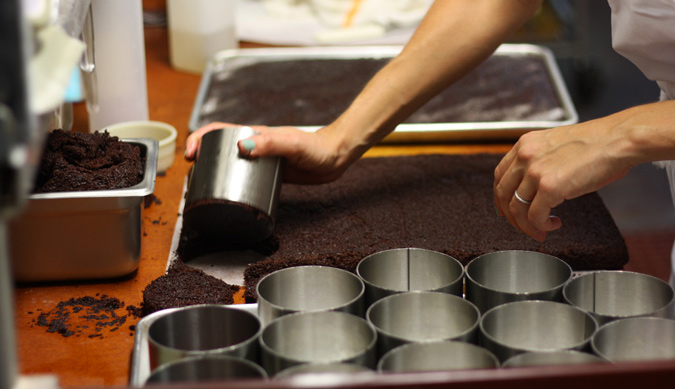 Our Story
(You can also follow us on Facebook to see what we're up toor check out our latest menu)
Keith Freiman, a native New Yorker attended the Culinary Institute of America before settling in Miami where he quickly secured coveted positions assisting high profile Pastry Chefs at prestigious South Florida venues. After launching his own career, it wasn't long until he made a name for himself as one of the region's best Pastry Chefs. Known for putting his own twist on decadent classics, Keith garnered high praise designing sumptuous dessert menus for famed steakhouse Smith & Wollensky as well as Philippe Miami. An opportunity to showcase his expertise presented itself in 2013 when he was asked to create the gourmet recipes for Rhino Doughnuts. It was there that he connected with now partner, Emilio Freire, a co-founder of Yonutz, gourmet donut shop in Sunrise, Florida. "We aim to offer our guests a laid back, casual dining experience. But behind the scenes, we couldn't be more serious about perfecting our recipes and techniques," he explains. Freire, a San Francisco transplant, studied design and spent over 15 years consulting for restaurants, bars, clubs, and similar venues; doing everything from creating design concepts to crafting cocktail recipes. He is the co-founder of one of San Francisco's biggest multi-disciplinary venues, Public Works. Always up for an adventure, Freire came to South Florida heavily influenced by the notoriously unconventional Bay Area aesthetic. Freire brings the California cool vibe to the dining space and keeps the ambiance current. "We've each got two small children and very savvy wives," explains Freire "so the standards are pretty high in terms of making them proud."
Bake Shack in Dania Beach, located at 238 S. Federal Highway, opened its doors in April of 2016 with a mission that goes beyond creating hand crafted treats. As co-owners, we each bring our own unique background to the business but are united in the mission to offer locals and visitors alike a thoughtful menu focused on traditional baking methods.
With Bake Shack, we created a space where people can gather and enjoy fresh-made signature menu items. We are keen on holding constant the quality and consistency of our breakfast and lunch menu items and we never compromise the perfect sweetness of our scratch-made baked goods. Another priority of ours has been to support local talent and businesses in the community, and so we offer locally roasted coffee, hire from our local schools, and through our purveyor relationships we support other local companies.
Our dream is to bring our humble eatery to more people across South Florida, and we plan to do that while holding on to what makes Bake Shack our pride and joy: a light heart, a cool vibe, and damn-good food made from scratch!
Keith Freiman, Chef/Owner
Emilio Freire, Owner